ACCA Applied Skill & Strategic Professional Faculty Panel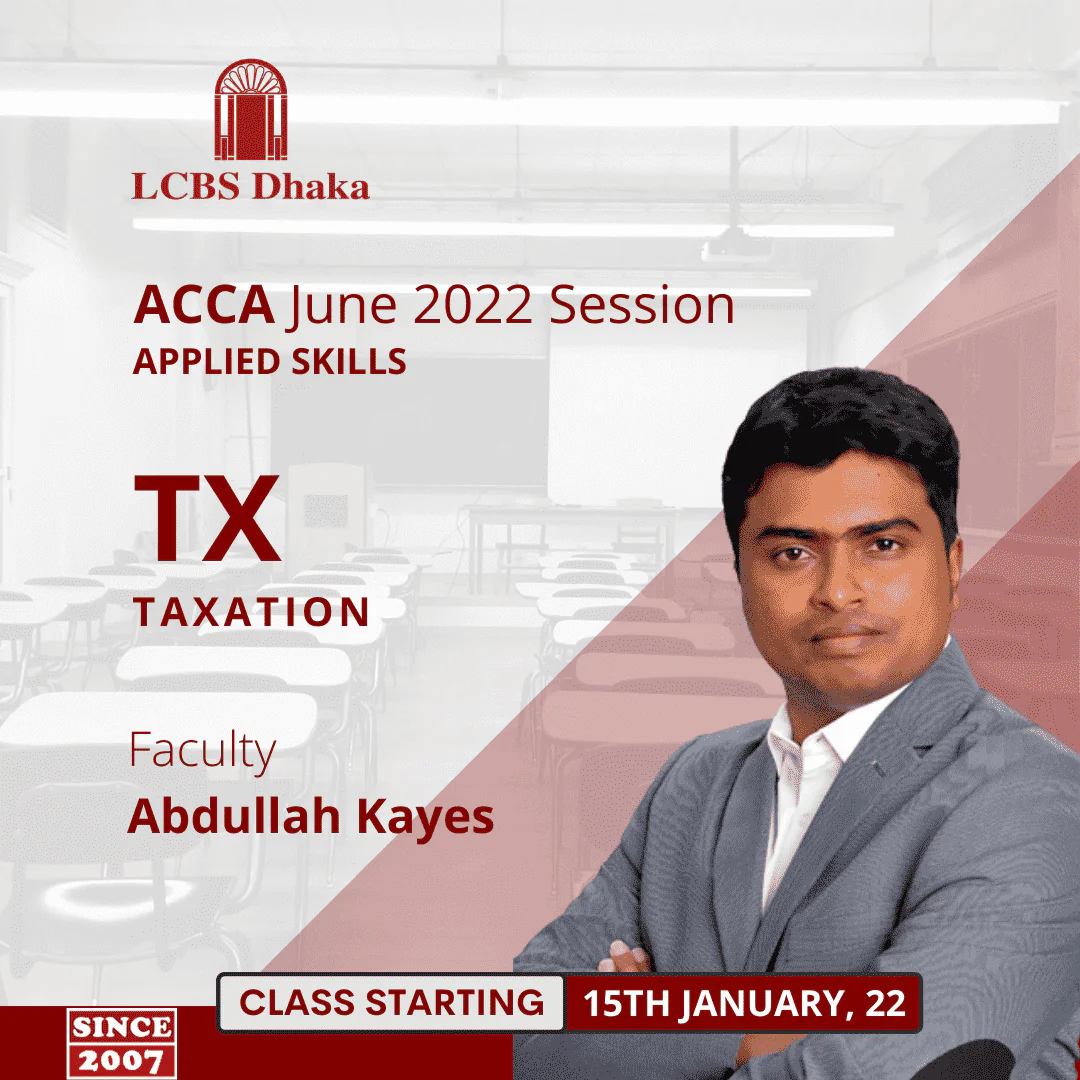 Learn & Prepare with the longest serving ACCA Tuition provider in the country, having served the highest numbers of ACCA affiliates and members, we take great pride with the quality of tuition and service we provide.

Prepare with the best.

June 2022 Session ACCA Applied Skill Level-
Faculty: Abdullah Al Mahmud Md. Kayes
Module: TX – Taxation
Class Start Date: 15th January 2022 

𝐌𝐫. 𝐀𝐛𝐝𝐮𝐥𝐥𝐚𝐡 𝐀𝐥 𝐌𝐚𝐡𝐦𝐮𝐝 𝐌𝐝. 𝐊𝐚𝐲𝐞𝐬 has been involved in 𝐀𝐂𝐂𝐀 tuition and student support for over a decade and his dedication towards teaching and his contemporary teaching style has earned him a reputation of being one of the most prominent faculties in the country.

Apart from 𝐀𝐂𝐂𝐀, he is also a proud senior faculty member of 𝐈𝐂𝐆𝐀𝐁 and 𝐈𝐒𝐀𝐂𝐀 Dhaka Chapter. Under his guidance, many of his students have achieved Country Highest scores in 𝐓𝐚𝐱𝐚𝐭𝐢𝐨𝐧 (𝐓𝐗) 𝐚𝐧𝐝 𝐀𝐮𝐝𝐢𝐭 & 𝐀𝐬𝐬𝐮𝐫𝐚𝐧𝐜𝐞 (𝐀𝐀).

Alongside teaching 𝐌𝐫. 𝐀𝐛𝐝𝐮𝐥𝐥𝐚𝐡 𝐀𝐥 𝐌𝐚𝐡𝐦𝐮𝐝 𝐌𝐝. 𝐊𝐚𝐲𝐞𝐬 is presently working as Assistant Director-Internal Audit in ASA International Group Plc, a listed company on the London Stock Exchange. Prior to his present employment, he has had extensive experience of working in Internal Audit in two private commercial banks namely Al Arafah Islami Bank Ltd and NCC Bank Ltd as well as playing the role of Manager, Audit & Assurance in M J Abedin and Co. Chartered Accountants. He is a fellow member of the Association of Chartered Certified Accountants and a registered mentor of Oxford Brookes University, UK (OBU).

For More Details:
Tel: 02-48118935-6,
Mobile:01746388644-45,
Hotline: 09678 505050
WhatsApp: 01680436235
Email: info@lcbsdhka.com
Address: House # 120, Road # 9/A, Shankar Bus Stand, Dhanmondi, Dhaka -1209
Visit Us:
Website:
LCBS E-Campus: https://e-campus.lcbsdhaka.com
Download App: https://lcbs.ink/pRJZr
Facebook: www.facebook.com/lcbs.dhaka
LinkedIn: www.linkedin.com/company/lcbsdhaka
Instagram: www.instagram.com/lcbs.dhaka
Twitter: www.twitter.com/lcbs_dhaka
YouTube: www.youtube.com/Lcbsdhaka
#LCBS_Dhaka #New_Batch #LCBS #Course #skillBangladesh #showcasingskillsglobally #ACCA_Skill_Level #ACCA_Professional_level #Teachers #ACCA_Faculty #LCBS_Faculty