Information Session on OBU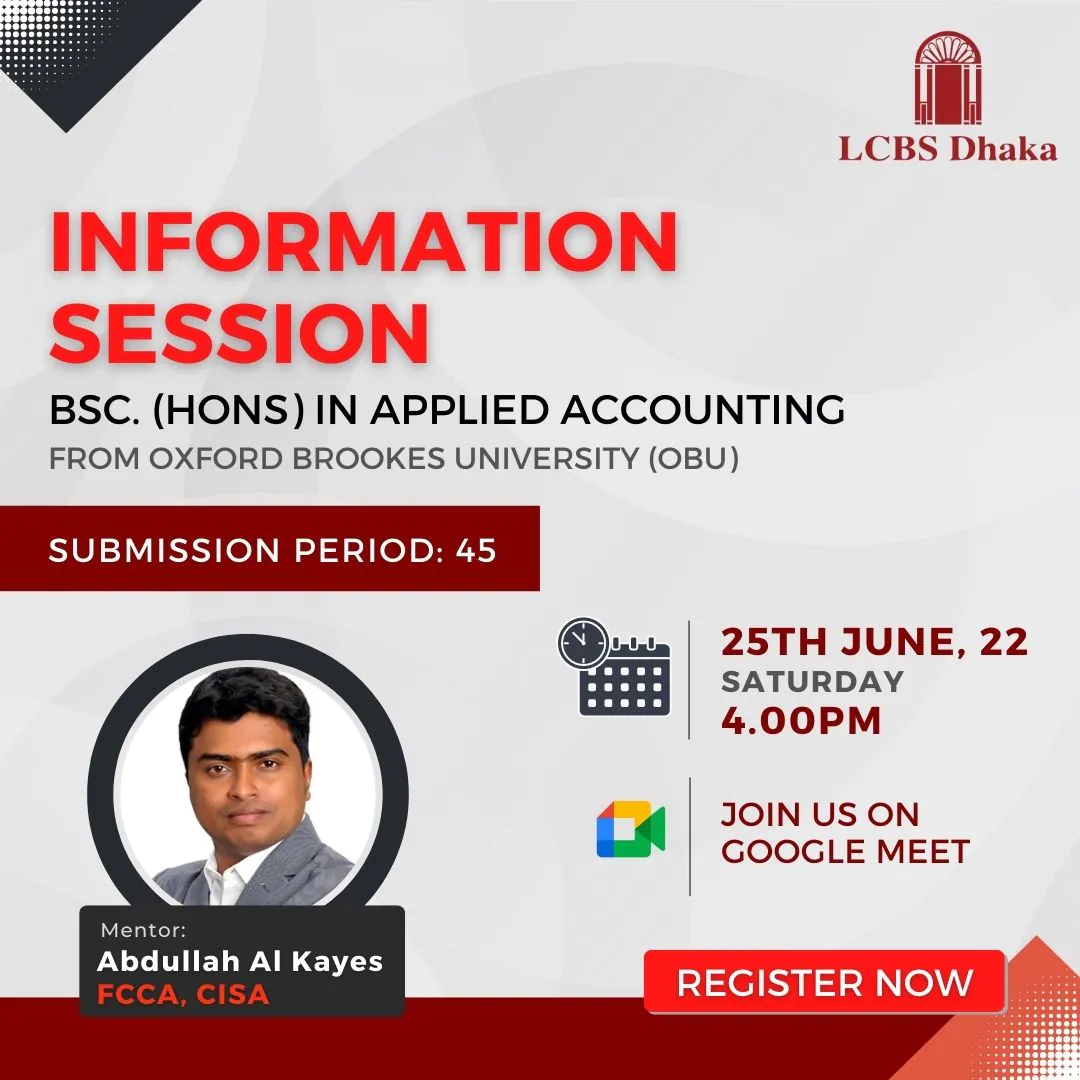 ACCA and Oxford Brookes University have worked together to develop a BSc (Hons) Degree in Applied Accounting, which is available exclusively to ACCA students who wish to obtain a degree while studying for the ACCA Qualification.

Thanks to the unique collaboration between ACCA and Oxford Brookes University, UK student's perusing ACCA now have the unique opportunity of obtaining an academic degree alongside ACCA known as the B Sc [hons] in applied accounting. Having completed the applied skills level of ACCA namely LW, PM, TX, FR, AA, FM. Candidates may now complete research and analysis projects under the guidance of a registered OBU mentor to obtain this degree.
LCBS Dhaka, one of the first and finest ACCA tuition providers in the country is pleased to announce that on 𝟐𝟓𝐭𝐡 𝐉𝐮𝐧𝐞 𝟐𝟎𝟐𝟐, a seminar will be held at Online Platform for all interested OBU candidates.

To join the seminar, Book your Seats :
Save the link to join the Session:
Come attend and meet our registered OBU mentor Abdullah Al Mahmud Md. Kayes FCCA, CISA and get to know more about topic selection, examiner's feedback, common mistakes, marking criterion, and much more.

Abdullah Al Mahmud Md.Kayes FCCA, CISA has been one of the most renowned faculties of the country with teaching experience of over 10 years and also a registered OBU mentor. He will be conducting the seminar and answering any queries."

Date & Time:
25th June 2022
Saturday 04:00 pm
For More Details:
Tel: 02-48118935-6, Mobile: 01746388644-45, Hotline: 09678 505050 WhatsApp: 01680436235 Email: info@lcbsdhaka.com
Visit Us:
Website: www.lcbsdhaka.com
Download App: https://lcbs.ink/pRJZr
Facebook: www.facebook.com/lcbs.dhaka
LinkedIn: www.linkedin.com/company/lcbsdhaka

#ACCA #Seminar #Free_Seminar #Seminar_on_OBU #LCBS_Dhaka #ACCA_With_LCBS #Live_Counselling #Live_Seminar #OBU_Information_Seminar