Conflict Management & Negotiation Mastery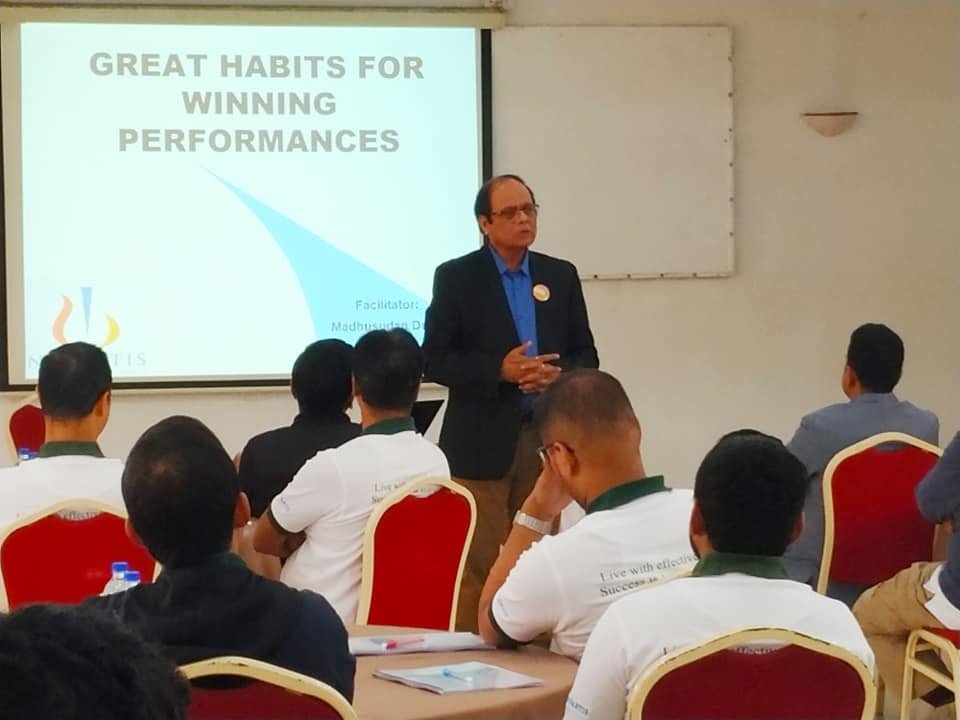 Conflict Management & Negotiation Mastery
A study by the American Management Association says that managers spend at least 24% of their time on managing conflict. Effective negotiation involves developing a process that leads to constructive outcomes. Conflict Management & Negotiation Mastery is one of the most popular training program by LCBS Dhaka. More than 800+ Participants from different industry attended the programs and all of them were satisfied. We already served the program to, Banglalink, Robi, bKash, Arla Foods, E.co, Shanta Holdings, C&A Sourcing, VF Asia and many individuals. This is one of the top ranked training programs by LCBS Dhaka.
Training Feature:
Duration: 2 Days
Date: 18th & 19th February, 2020
Time: 9:30 am – 5:30 pm
Investment: 12500 BDT
Venue: LCBS Dhaka
Registration Link:
http://bit.ly/Conflict_Negotiation
Day 01: Negotiation Mastery-
Course Overview:
Gain an understanding of how negotiations work and be aware of your impact. The tone of your voice, your body language, and your phrasing can have a significant impact on the process and outcome of any negotiation. Gaining the skills to negotiate, coupled with an understanding of your personal impact, will improve your negotiation technique and lead to better outcomes.
By employing a distinctive experiential approach, participants will gain practical insight into how to manage their negotiations more effectively and avoid pitfalls. This knowledge will be brought to life through case studies, simulations, role plays and coaching. The program culminates in a substantial negotiation simulation in which participants will be challenged, guided and coached to develop and improve their practical skills.
The Key Learning Outcomes
A practical understanding of how negotiations work, including what power and trust mean in the context of negotiation
Strategic thinking – tools to enable you to become a proactive rather than reactive negotiator
A reflective approach that will enable you to continually enhance your negotiation effectiveness and understand your own style as a negotiator.
Feedback on current strengths and weaknesses
Practical skills in managing the tasks that are needed to achieve a constructive outcome
Personalized skills development in managing the interaction between yourself and other negotiators.
Course Outline:
The DNA of Negotiation
Negotiation Styles
Preparing for Negotiation
Stakeholder Analysis
Issues and Positions
Negotiation Phases
Negotiation Checklist
Power & Control
Dealing with Negative Emotions
Personal Action Plan
Day 02: Conflict Management-
Course Overview:
Conflict at work should enable ideas to be tested and new directions to be explored. All too often it becomes an interpersonal shouting match. Participants will examine positive and negative conflicts and decide how conflict can be managed in their work and personal lives. The program promotes the development of skilled influencing behaviors.
This program is designed to enhance conflict resolution skills by examining what conflict is and how conflict affects people. Participants will examine positive and negative conflicts and decide how conflict can be dealt with in their work and personal lives. The program will examine some basic communication strategies and will promote the development of negotiation and influencing skills.
Program Content:
What is Conflict?
Strategies for Managing Conflict
Personal Styles of Conflict Management
Active Listening and Questioning Techniques
Negotiating
Assertiveness Techniques
Building Solutions to Conflict Situations.
Learning Outcomes
Participants should be able to:
Identify and appropriately respond to personal values, points of view and conflict management styles
Analyze the needs of each party to resolve conflict in a flexible manner
Use positive influence techniques to negotiate for a 'win-win' situation.
International Facilitator:
Madhusudan Dutta
Certified Leadership & Business Coach, NLP Practioner
& Certified Master Facilitator
Trainer Profile:
http://bit.ly/Pro_Conflict
For More Details: Tel: 02-9142957-8, Mobile: 01705439940, Hotline: 09678 505050
Address: House: 105, Road: 9/A, West Dhanmondi, (Beside Dhanmondi party center),
Dhanmondi, Dhaka-1209
Subscribe Our YouTube Channel:
http://bit.ly/LCBSDhaka
Visit Our Website: https://www.lcbsdhaka.com
Course Features
Lectures

0

Quizzes

0

Duration

16 hours

Skill level

All levels

Language

English

Students

1

Assessments

Yes