ACCA Applied Skill & Strategic Professional Faculty Panel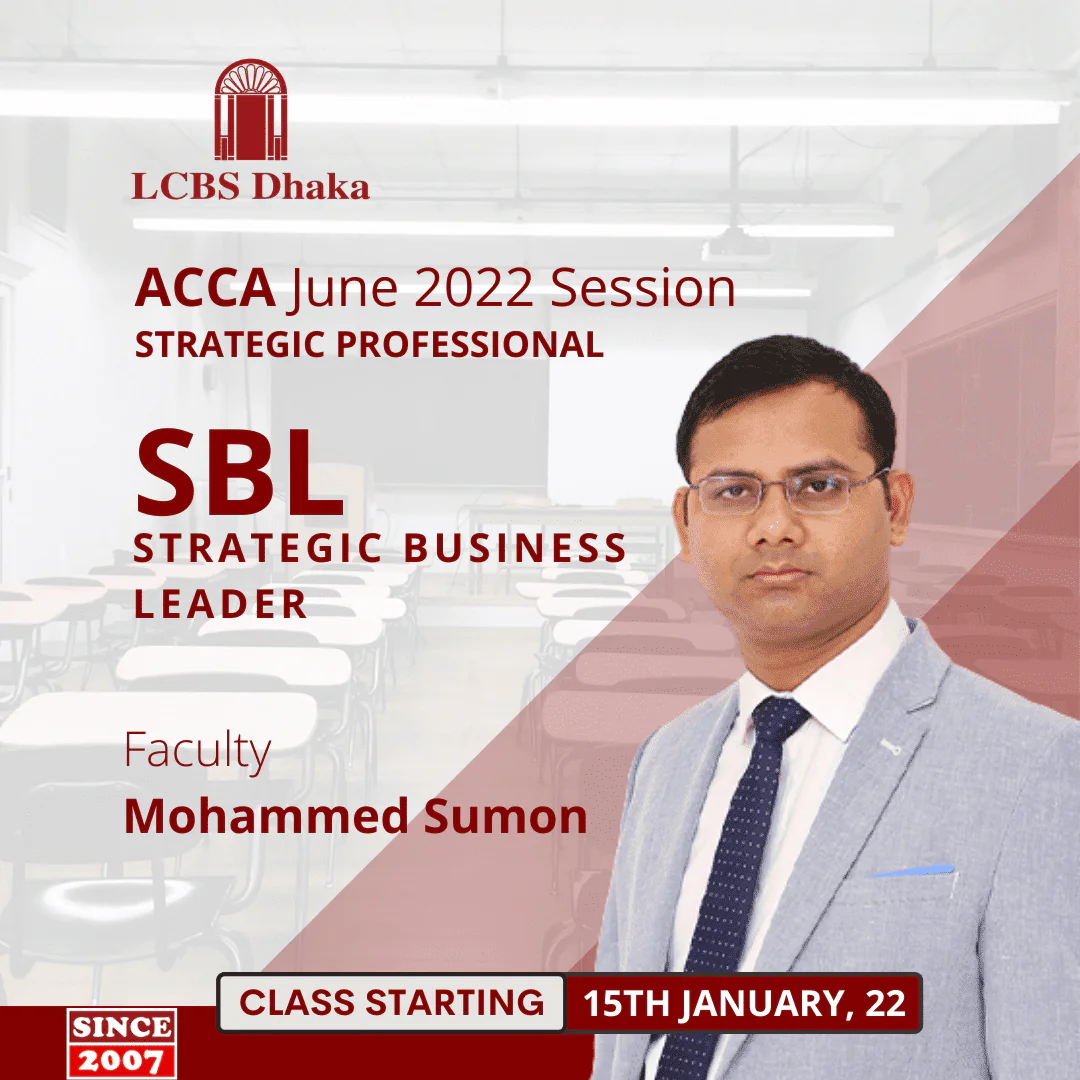 Learn & Prepare with the longest serving ACCA Tuition provider in the country, having served the highest numbers of ACCA affiliates and members, we take great pride with the quality of tuition and service we provide.

Prepare with the best.

June 2022 Session ACCA Strategic Professional Level-
Faculty: Mohammed Sumon
Module: SBL – Strategic Business Leader
Class Start Date: 15th January 2022

𝐌𝐫. 𝐌𝐨𝐡𝐚𝐦𝐦𝐞𝐝 𝐒𝐮𝐦𝐨𝐧, highly organized and self-driven individual, passionate about developing his career in the field of Accounting. His commitment can be gauged from the fact that he is a Chartered Certified Accountants from ACCA and Certified Public Accountant from CPA Ireland. Currently, he is pursuing a Chartered Financial Analyst from CFA Institute, USA.

He has more than four years of teaching experience in various ACCA papers including P1 – Governance Risk and Ethics and got an award certificate as High Achiever for getting the highest marks (76%) in Bangladesh for the ACCA Paper of P1. Besides, he has 10 years of experience working in diverse financial positions in multiple local and international companies and gained extensive insight within this finance and accounting field.

For More Details:
Tel: 02-48118935-6, Mobile:01746388644-45, Hotline: 09678 505050 WhatsApp: 01680436235 Email: info@lcbsdhka.com
Address: House # 120, Road # 9/A, Shankar Bus Stand, Dhanmondi, Dhaka -1209
Visit Us:
Website:
www.lcbsdhaka.com
www.lcbsdhaka.com/training
www.educlaas.lcbsdhaka.com
LCBS E-Campus: https://e-campus.lcbsdhaka.com
Download App: https://lcbs.ink/pRJZr
Facebook: www.facebook.com/lcbs.dhaka
LinkedIn: www.linkedin.com/company/lcbsdhaka
Instagram: www.instagram.com/lcbs.dhaka
Twitter: www.twitter.com/lcbs_dhaka
YouTube: www.youtube.com/Lcbsdhaka

#LCBS_Dhaka #New_Batch #LCBS #Course #skillBangladesh #showcasingskillsglobally #ACCA_Skill_Level #ACCA_Professional_level #Teachers #ACCA_Faculty #LCBS_Faculty