ACCA Applied Skills and Strategic Professional Level
Posted by

Date

June 9, 2021

Comments

0 comment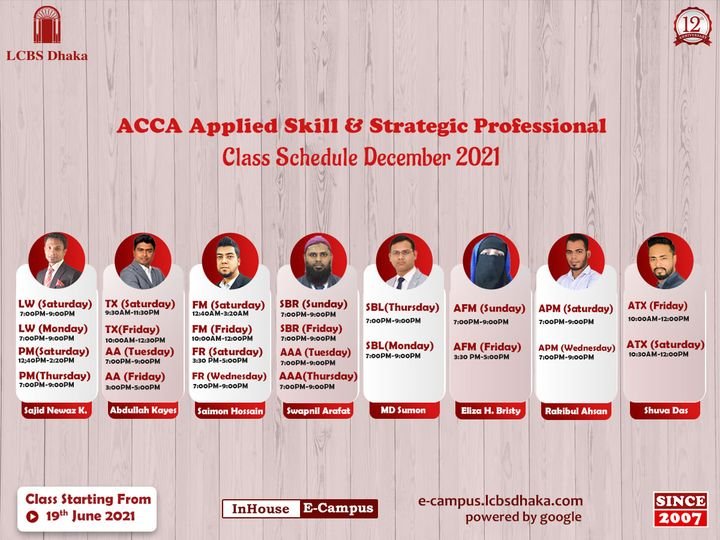 Dear students of ACCA Skill/Professional level, we are delighted to inform you that ACCA Applied Skills and Strategic Professional Level December-2021 Session classes are starting from 19th June 2021.
◉ Register Now:
https://crm.lcbsdhaka.com/view.php?id=213427
We believe only professionally experienced tutors can bring your accredited study materials & knowledge to life. Also, relating and analyzing with practical knowledge is the most vital part for students to pass papers in this professional qualification.
Therefore, we are offering you the most renowned, experienced & skilled faculty targeting the December-2021 exam session.
LCBS Dhaka is the pioneer institute for ACCA in Bangladesh with an assurance of the top-most tuition quality. And backed thousands of students in the last decade. During pandemics, our tuition services will be provided through our interactive online platform until it is safe to carry out face-to-face classes.
Book your seats now, and give yourself a chance to experience the best in class!
◉ For More Details:
Tel: 02-48118935-6,
Mobile: 01746388644-45,
Hotline: 09678 505050
WhatsApp: 01680436235
Email: [email protected]
Address: House # 120, Road # 9/A, Shankar Bus Stand, Dhanmondi, Dhaka -1209
◉ Visit Us:
Website: www.lcbsdhaka.comwww.lcbsdhaka.com/training
LCBS E-Campus: https://e-campus.lcbsdhaka.com
Download App: https://bit.ly/lcbsdhakaapps
Facebook: www.facebook.com/lcbs.dhaka
LinkedIn: www.linkedin.com/company/lcbsdhaka
Instagram: www.instagram.com/lcbs.dhaka
Twitter: www.twitter.com/lcbs_dhaka
YouTube: www.youtube.com/Lcbsdhaka