AFM- ACCA Strategic Professional Level (June 2023 Exam Session)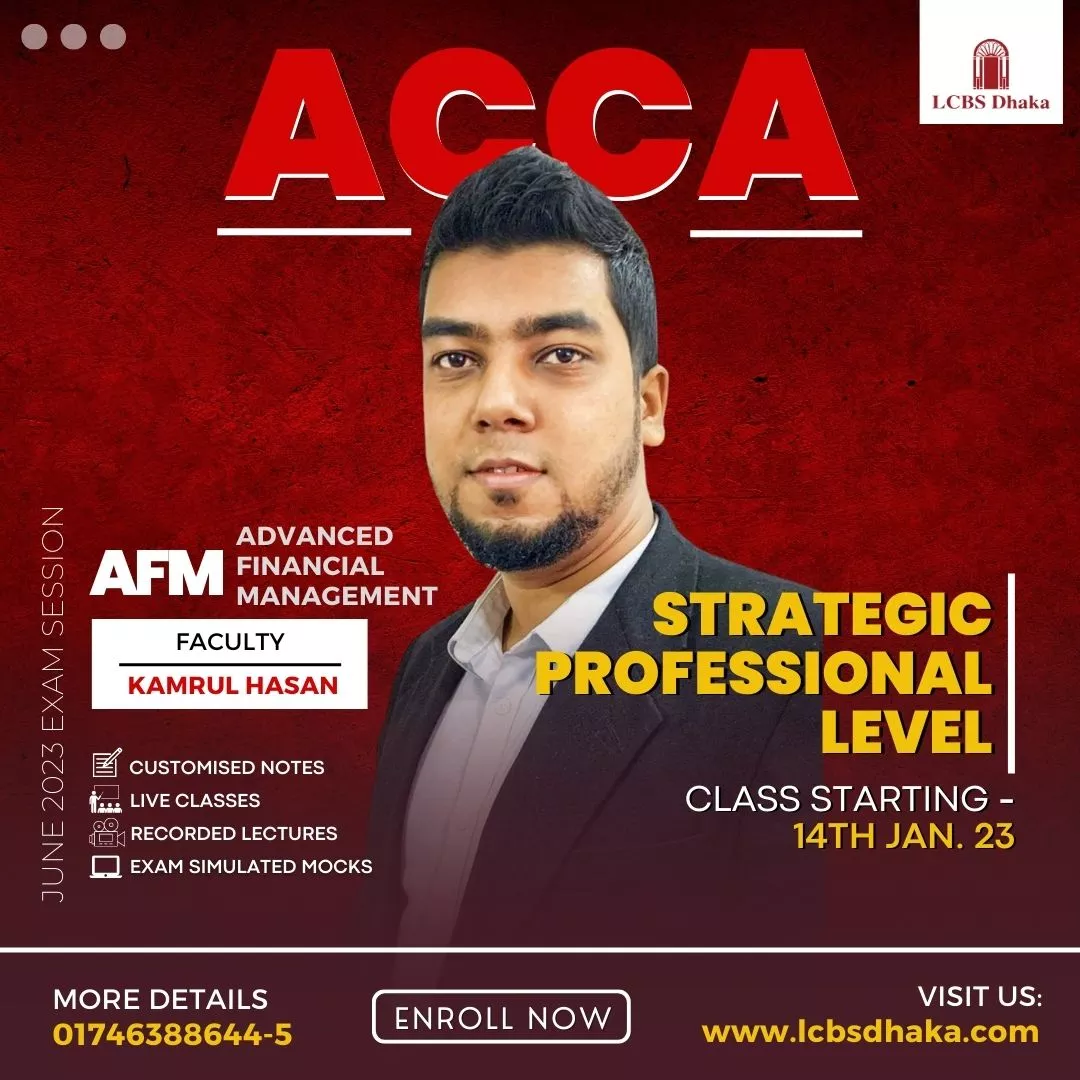 Learn & Prepare with the longest-serving Institute for #ACCA in the country, having served the highest numbers of ACCA affiliates and members, we take great pride in the quality of tuition and service we provide.

June 2023 Exam Session
ACCA Startegic Professional Level-
Faculty: Saimon Hossain
Module: #AFM- Advanced Financial Management
Class Start Date: 14th January 2023

𝐒𝐚𝐢𝐦𝐨𝐧 𝐇𝐨𝐬𝐬𝐚𝐢𝐧 is specialized in teaching Financial Accounting, Financial Reporting, and Financial Management with more than 𝟓 𝐲𝐞𝐚𝐫𝐬 of teaching experience.

He is CAT Qualified and an ACCA Affiliate is holding an MBA. He is currently working as an Accountant at Ulka Games Limited. He is a young, vibrant, and passionate individual who has been immensely popular among his students for his interactive teaching style and utmost cooperation. Convergence of cognitive knowledge with real-life examples and business cases is the essential characteristic of his teaching methodology that enables students to develop a clear understanding and apply accordingly ensuring a commendable pass rate.

including-
*live classes
*recorded lectures
*customized notes
*Revision Sessions
*Past Paper Solve Recordings
*Interim Assessments
*Mocks

𝐏𝐫𝐞𝐩𝐚𝐫𝐞 𝐰𝐢𝐭𝐡 𝐭𝐡𝐞 𝐛𝐞𝐬𝐭….

For More Details:
Tel: 02-48118935-6, Mobile:01746388644-45, Hotline: 09678 505050 WhatsApp: 01680436235 Email: info@lcbsdhka.com
Address: House # 120, Road # 9/A, Shankar Bus Stand, Dhanmondi, Dhaka -1209
Visit Us:
Website: www.lcbsdhaka.com
www.epractice.lcbsdhaka.com
Download App: https://lcbs.ink/pRJZr
Facebook: www.facebook.com/lcbs.dhaka
LinkedIn: www.linkedin.com/company/lcbsdhaka
YouTube: www.youtube.com/Lcbsdhaka

#ACCA_Professional_Level_Faculty #ACCA_Faculty #LCBS