FR- ACCA Applied Skills Level Faculty (June 2023 Exam Session)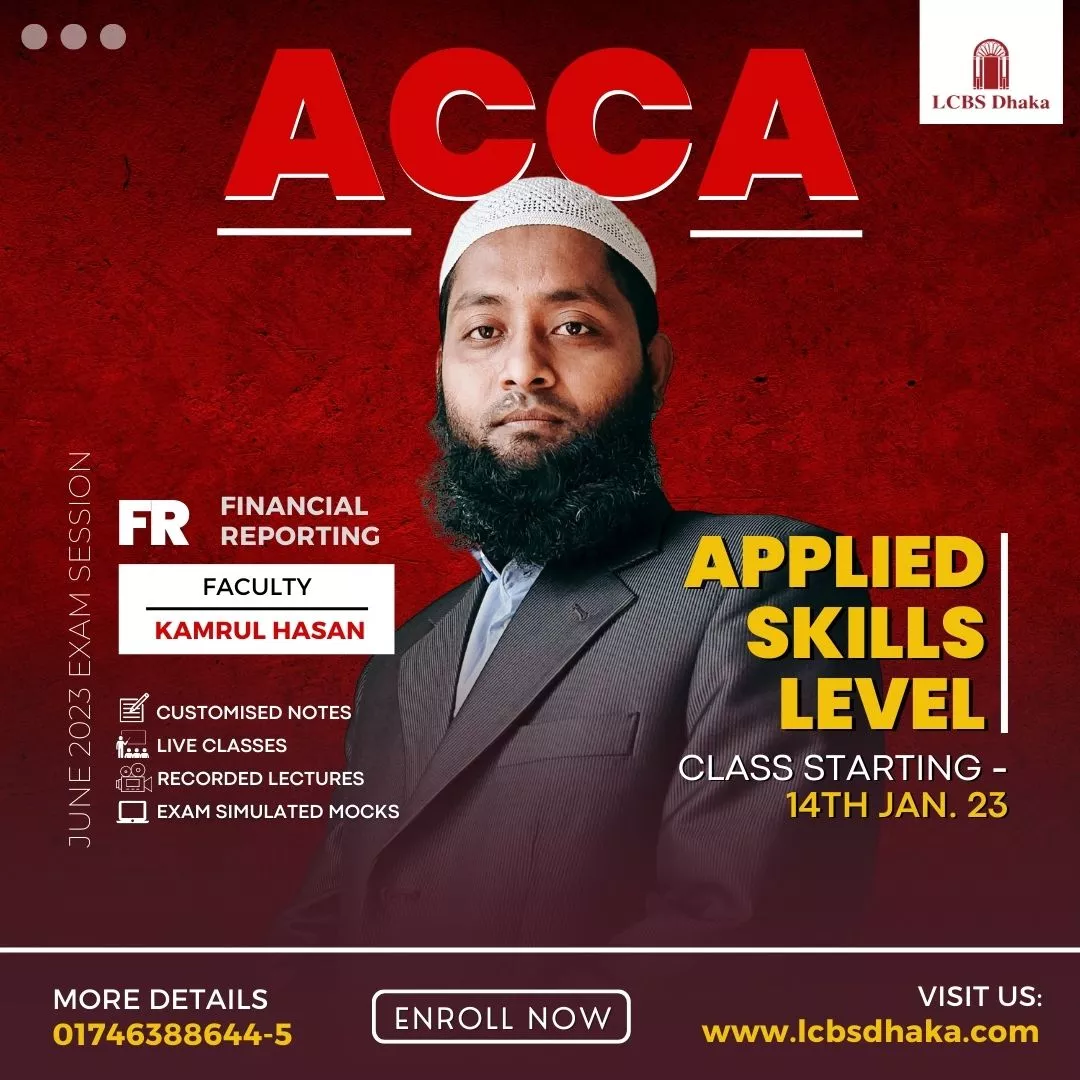 Learn & Prepare with the longest-serving Institute for #ACCA in the country, having served the highest numbers of ACCA affiliates and members, we take great pride in the quality of tuition and service we provide.

June 2023 Exam Session
ACCA Applied Skills Level –
Faculty: Kamrul Hasan
Module: #FR – Financial Reporting
Class Start Date: 14th January 2023

𝐌𝐫. 𝐊𝐚𝐦𝐫𝐮𝐥 𝐇𝐚𝐬𝐚𝐧, has 13 years of teaching experience in ACCA financial accounting-related papers (e.g. FA2, FA, FR, and P2/SBR) and F8/AA (Audit & Assurance). He has special experience and expertise in IAS/IFRS and Audit standards. During his teaching journey, he taught more than 2000 ACCA students among them many students became the country's highest achievers in several semesters specially ACCA paper fF7/FR, F8/AA (Audit & Assurance) and P2/SBR ( Strategic Business Reporting). Mr. Kamrul Hasan also was the highest achiever in several ACCA papers himself.

including-
*live classes
*recorded lectures
*customized notes
*Revision Sessions
*Past Paper Solve Recordings
*Interim Assessments
*Exam Simulator Mocks

𝐏𝐫𝐞𝐩𝐚𝐫𝐞 𝐰𝐢𝐭𝐡 𝐭𝐡𝐞 𝐛𝐞𝐬𝐭….

For More Details:
Tel: 02-48118935-6, Mobile:01746388644-45, Hotline: 09678 505050 WhatsApp: 01680436235 Email: info@lcbsdhka.com
Address: House # 120, Road # 9/A, Shankar Bus Stand, Dhanmondi, Dhaka -1209
Visit Us:-
Website: www.lcbsdhaka.com
www.epractice.lcbsdhaka.com
Download App: https://lcbs.ink/pRJZr
Facebook: www.facebook.com/lcbs.dhaka
LinkedIn: www.linkedin.com/company/lcbsdhaka
YouTube: www.youtube.com/Lcbsdhaka

#ACCA_Skills_Level_Faculty #ACCA_Faculty #LCBS