LW- ACCA Applied Skills Level (June 2023 Exam Session)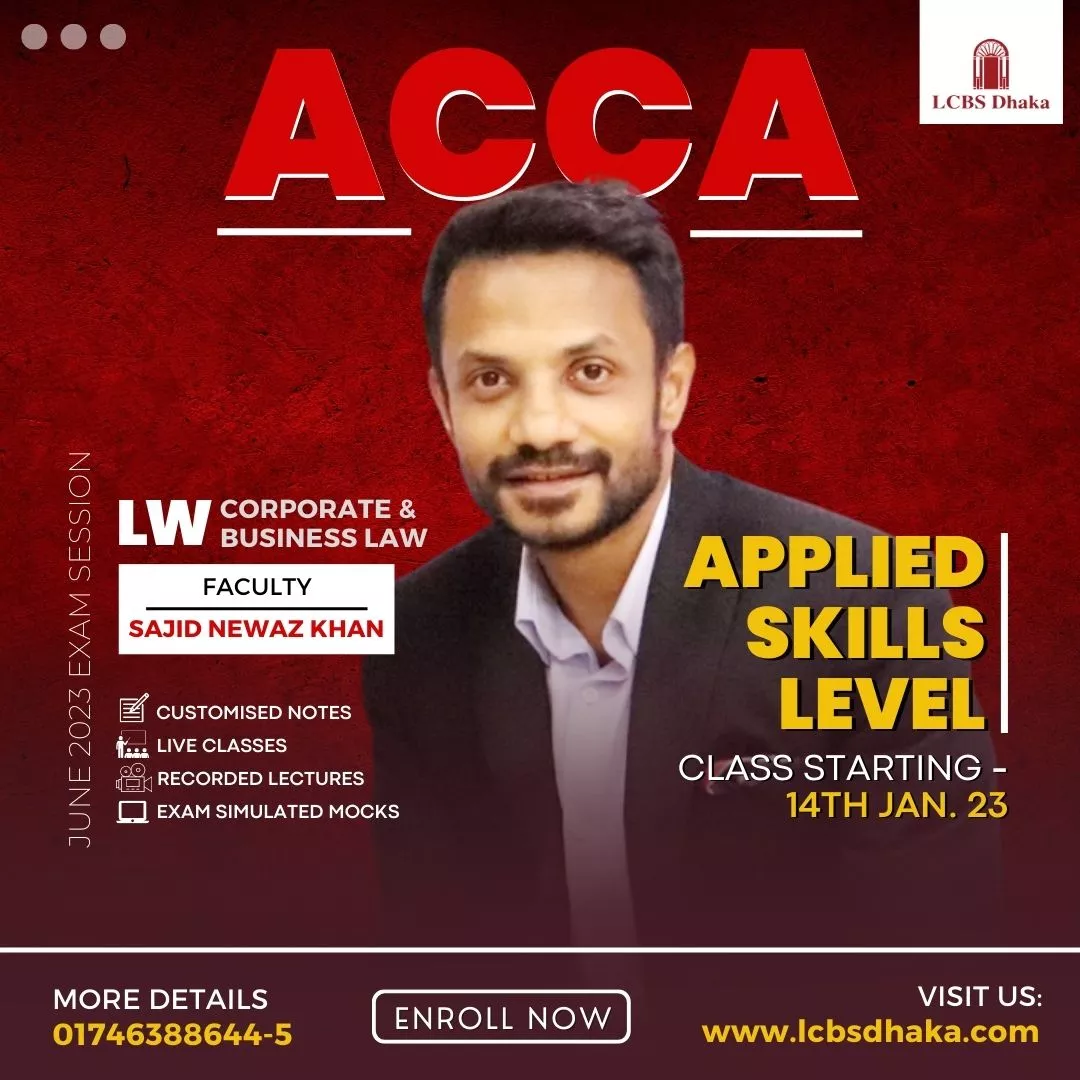 Learn & Prepare with the longest-serving Institute for #ACCA in the country, having served the highest numbers of ACCA affiliates and members, we take great pride in the quality of tuition and service we provide.

June 2023 Exam Session
ACCA Applied Skills Level-
Faculty: Sajid Newaz Khan
Module: #LW- Corporate & Business Law
Class Start Date: 14th January 2023

𝐌𝐫. 𝐒𝐚𝐣𝐢𝐝 𝐍𝐞𝐰𝐚𝐳 𝐊𝐡𝐚𝐧, having started his teaching career in 2013, has been a leading faculty in relevant papers for over half a decade. Their exceptional and consistent pass rates and his contemporary teaching style and lectures have made him one of the most sought-after faculty in the country.

Alongside teaching, Mr. Sajid Newaz Khan has had over a decade of working experience in various roles in Multinational Organisations including being a Divisional Manager at Innovage Worldwide and the Head of Operations at Solharvest e.K.

He has had a track record of maintaining 100% pass rates in many sessions year in and year out, and the outstanding scores of students in relevant papers, under his guidance, are a testament to the quality of tuition that he delivers.

including-
*live classes
*recorded lectures
*customized notes
*Revision Sessions
*Past Paper Solve Recordings
*Interim Assessments
*Exam Simulator Mocks

𝐏𝐫𝐞𝐩𝐚𝐫𝐞 𝐰𝐢𝐭𝐡 𝐭𝐡𝐞 𝐛𝐞𝐬𝐭….

For More Details:
Tel: 02-48118935-6, Mobile:01746388644-45, Hotline: 09678 505050 WhatsApp: 01680436235 Email: info@lcbsdhka.com
Address: House # 120, Road # 9/A, Shankar Bus Stand, Dhanmondi, Dhaka -1209
Visit Us:
Website: www.lcbsdhaka.com
www.epractice.lcbsdhaka.com
Download App: https://lcbs.ink/pRJZr
Facebook: www.facebook.com/lcbs.dhaka
LinkedIn: www.linkedin.com/company/lcbsdhaka
YouTube: www.youtube.com/Lcbsdhaka

#ACCA_Skills_Level_Faculty #ACCA_Faculty #LCBS